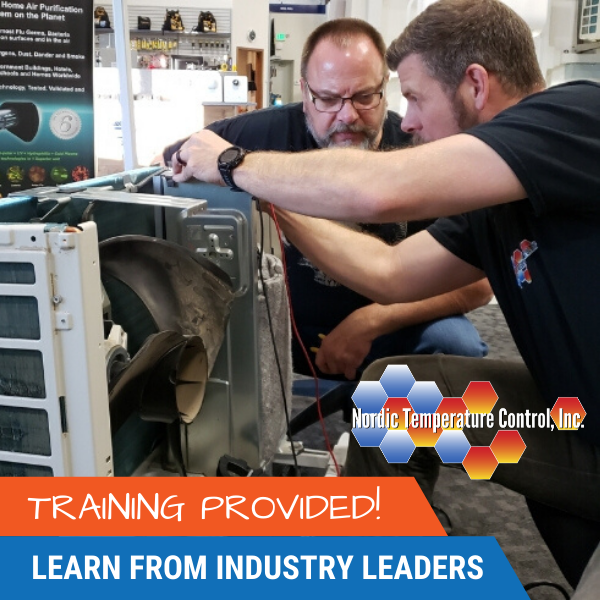 At Nordic Temperature Control, our #1 goal is to offer superior products and services with a foundation built on efficient, reliable, and cost-effective heating and cooling solutions. We stand behind our commitment to provide the highest level of craftsmanship and services to our clients, without compromise!
Why We Need You!
We're growing and need talented HVAC-R Technician and Installers to satisfy our customer's needs. Because we offer top of the line products and services, we need top of the line team members who genuinely cares about the customer and looks at this opportunity as not just a job but a career.
Founded on Trust, Service, & Work Ethic
As a technician at Nordic Temperature Control, your goal is to establish and build a long-term relationship. This relationship is built on our client's trust that we as a company have and keep to the highest standards in the HVAC industry throughout the entire lifespan of the project and years of ongoing maintenance. We get the job done right… the first time!
Apprentice and Journey-Level HVAC and HVAC-R positions now available!
Whether you are starting or advancing your career we're looking for honest, hardworking, mechanically inclined individuals to join our team
At Nordic, our service is built on 3 factors… Trust, Ownership, and Accountability. Trust is established with the client through our honesty, integrity, hard work, and getting the job done on time and within budget. Ownership comes from taking full responsibility during the design, installation, and being a leader while working alongside other trades on a job site. Ultimately, we hold ourselves fully Accountable toward 100% client satisfaction.
If you want to be part of something bigger than just a job — then this may be the future for you. The successful applicant will work in a place where they will be appreciated and where their work has a direct effect on the success of the company.
What We Offer
$5,000 Sign-On Bonus (*stipulations apply)

Competitive salary plus performance bonuses (based on experience)

Company vehicle and gas card

Medical insurance 100% paid by the employer

New technology, including mobile phone, tablet & access to integrated software

Paid generous vacation and holidays

A company culture of work hard and play harder

An open door atmosphere

Paid training

Opportunities for certifications

Year-round work

Career stability

Uniforms
Our mission is providing Quality Craftsmanship through Dedication and Dependability!
The first thing you notice about Nordic Temperature Control is a spirit of authenticity. We're candid and open, working collaboratively with each other and our clients to do great work every day. We have high expectations, high energy, and high rewards. We're go-getters who aren't afraid to think outside the box, stopping at nothing to deliver added value for our clients.
We work hard to find, develop, and keep the very best people – providing opportunities to learn and grow as professionals, as a team, and as individuals.