Burlington WA, Skagit County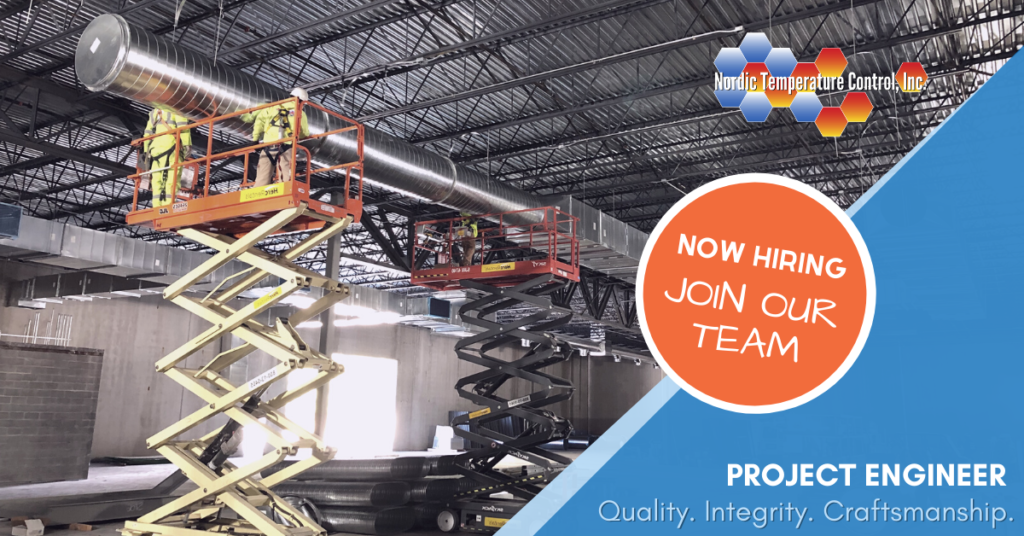 A Leader in the HVAC-R Industry
At Nordic Temperature Control, our #1 goal is to offer superior products and services with a foundation built on efficient, reliable, and cost-effective heating and cooling solutions. We stand behind our commitment to provide the highest level of craftsmanship and services to our clients, without compromise!
Why We Need You!
"We're growing and need a talented construction project engineer to assist the project manager and project superintendent with a variety of managerial functions on construction projects.  We are looking for an applicant who genuinely cares about the client, the project, and looks at this opportunity as not just a job but a career."
Essential Functions:
Acts as a liaison with general contractors, subcontractors, consultants, and suppliers. Maintains lists of addresses and phone numbers for these individuals.  Composes and prepares correspondence,
Produces and tracks contracts with subcontractors, suppliers, and consultants.
Collects and tracks RFI's and submittals and maintains a database to organize this material.
Prepares and coordinates change orders and tracks them using a database.
Assists with the preparation of project schedules.
Maintains and distributes current project plans and specifications.
Provides technical and on-site support to Project Manager and Project Superintendent.
Collects and processes purchase orders. Assists in the ordering of materials and supplies.
Assists with permitting issues, as necessary.
Keeps minutes of jobsite meetings.
Assist with project closeout documents.
Other duties as assigned.
Peripheral Functions:
Answers jobsite phone, as needed.
Makes trips for supplies, meetings, etc., using own vehicle (pay for mileage provided)
Skills, Knowledge, and Abilities:
Advanced knowledge of the construction industry, specifically commercial and industrial general contracting.
Excellent verbal and written communication skills with an emphasis on customer service.  Ability to speak clearly and articulately and to use proper grammar.
Ability to maintain a good attendance record.
Demonstrated competence in MS Office, including Word, Excel, Outlook, and construction project management software.
Valid Washington State Driver's License and good driving record.
Education and Experience:
A BS in Mechanical Engineering/Architectural Engineering or Construction Management is preferred, along with at least two years of project engineering experience on commercial and industrial projects.
Physical Requirements:
Sitting is required for much of the day, although sitting and standing may be varied as necessary for comfort.  Walking on the job site occurs frequently and may involve traveling or rough terrain or ascending to heights or depths of the construction project.  Fine finger dexterity is required for use of a keyboard and other office machines.  Occasional lifting of up to 20 pounds.
Working Conditions:
Work is performed in a construction office environment.  There may be exposure to construction dust, debris, and noise.
What We Offer
Sign-On Bonus Available*
Competitive salary plus performance bonuses (based on experience)
Company vehicle and gas card
Medical insurance 100% paid by the employer
New technology, including mobile phone, tablet & access to integrated software
Paid generous vacation and holidays
A company culture of work hard and play harder
Uniforms
*Stipulations apply.
If you want to be part of something bigger than just a job — then this may be the future for you. The successful applicant will work in a place where they will be appreciated and where their work has a direct effect on the success of the company. If this sounds like you, spend a little time learning about Nordic Temperature Control visiting www.NordicTempControl.com. When you're ready, please use the application form below to apply for this position.
The statements contained herein reflect general details as necessary to describe the principal functions of this job, the level of knowledge and skill typically required, and the scope of responsibility, but should not be considered an all-inclusive listing of work requirements.  Individuals may perform other duties as assigned including work in other functional areas to cover absences or relief, to equalize peak workload periods or otherwise to balance the workload.
Equal Opportunity Employer